Dr. Akiko Mikamo's life work has been to strengthen understanding, forgiveness, and love between people from opposing viewpoints. With the 68th anniversary of the atomic bombing of Hiroshima approaching, Dr. Mikamo's book Rising From The Ashes: A True Story of Survival and Forgiveness from Hiroshima celebrates the message her father, Shinji Mikamo, embodies.
This true account tells the story of Shinji as he is working on the roof of his house when the atomic bomb explodes just three-quarters of a mile away. He miraculously survives the blast and fights toward recovery at the edge of life. Only with the strength and compassion of his father, friends, and strangers is he able to rebuild his life and start a family.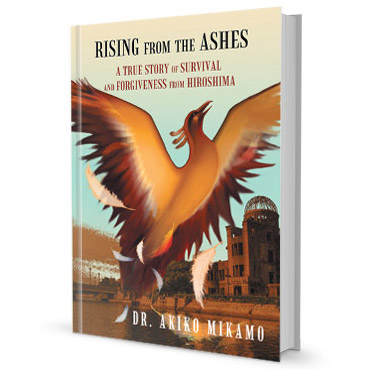 Shinji's life is a miraculous symbol for survival. He has passed on his belief in forgiveness and understanding to his family and Dr. Mikamo passes this message on to the world with Rising From The Ashes.
For more info and purchasing options, please visit http://risinghiroshima.com.
Buy Now ($14.99)
Available from Lulu.com as paperback or eBook (ePub)
Kindle ($7.99)
Available from Amazon.com for Kindle