Our Vision
The vision of San Diego-WISH is to promote peace and harmony among all peoples, cultures, and nations. Our mission is to work toward the creation of a safer world for future generations and to educate people to live in harmony, using the unprecedented experience of the US-Japan relationship as a real-world example.

What San Diego-WISH Does
We founded this not-for-profit 501(c)(3) organization to teach and inspire children, youth, families, and communities to respect, understand, and embrace people with different beliefs, cultures, views, and stances. We stand to provide opportunities to learn to collaborate or co-exist in harmony with those with various value systems for betterment of humanity and world peace. We work to make this happen at all levels within and among siblings, peers, couples, families, coworkers, communities, organizations, all the way to nations.
What's Coming
We hold two annual events in early August, International Peace & Humanity Day World Peace Wishing Ceremony and Floating of Paper Lanterns. In addition, we visit schools and organizations to provide seminars, workshops, audio/video/written learning materials, and motivational speeches for all ages all year around, based on the requests.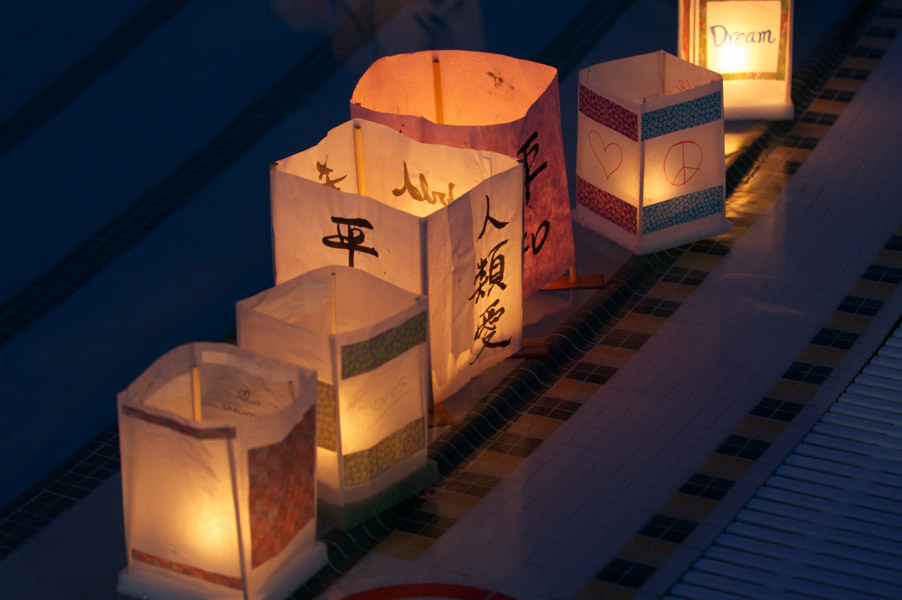 With your help, we plan to provide the scholarships in the near future for aspired students who would like to become educators or helping professionals and have come from challenging backgrounds. Such backgrounds include single parent families, recent immigrants, or lower socio-economic status. We would like to open a door for these students to get educated and give back to the community for peace and humanity.
We believe harmony comes from healthy self-esteem of individuals. People who can truly love and respect themselves do not have to hate, fight, or oppress other people. Healthy mental state & interpersonal relationships bring healthy society. From this standpoint, we will provide services such as counseling, coaching, mentorship, and personal development training in the near future within positive psychology framework.
Our Team
Akiko Mikamo, President
Dr. Mikamo was born in Hiroshima, Japan. Both her parents were about half a mile from the epicenter of the atomic bomb explosion and miraculously survived. Having been raised in Hiroshima City by the atomic bomb survivors and with a disabled older sister, she became determined in her childhood to contribute to world peace and humanity. Dr. Mikamo is a clinical, forensic, and sport psychologist as well as an executive coach and educator. She is also the author of Rising from the Ashes: A True Story of Survival and Forgiveness from Hiroshima.

Joshua Torres, Vice President
Dr. Torres has Doctorate's Degree in Global Development Studies and Bachelor's in International Relations. Dr. Torres is a Research Professor of Law School and School of Economics and International Relations at Autonomous University of Baja California. His research interests include nuclear disarmament and peace, international law and human rights, international relations and geopolitics. His vision is directed to the thought that Peace is the most rational thing for life and human security; thinking and working for it, is the universal mission of mankind.

Mike Kawamura, Executive Advisor
Mr. Kawamura is a survivor of the Hiroshima atomic bomb and was two years old when the bomb exploded. Growing up in post-war Japan and experiencing Hiroshima's perseverance and subsequent prosperity, he became inspired to spread the message of tolerance, understanding, and peace between nations. He joined Kyocera Corporation of Kyoto, Japan in 1969 and is known as one of the "Five Samurais," the original pioneers who established Kyocera's North American manufacturing operations in San Diego. He held many executive positions including President of Kyocera Europe, President of Kyocera Brazil, and General Manager of Education and Planning at Kyocera International, Inc. He has recently retired and serves in a number of community organizations.